TIGA
The Tiga façade system is for the blind fastening of façade cladding. This new smart system is mounted in a very simple way by means of stainless steel clips. This way, a complete facade is mounted without visible fixings. The fixing system specially designed for Accoya® wood is very easy to install due to the unique 'click and go' principle behind the facade section. But not only Accoya® is suitable for this profile, also Western Red Cedar and Oregon Pine are possible.
The design guarantees perfect ventilation and the façade parts are automatically fixed in the right place. In addition, no damage will be caused by screw holes on the visible side of the facade part. It falls under open siding and can only be installed horizontally.
Specification
The Tiga profile has one standard head size.
Thicknesses: 18, 23 and 26 mm
Widths: 58, 83, 133 and 183 mm (cover width)
Size does not include 8 mm clip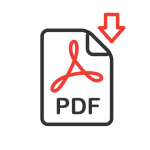 View the brochure